Moth Orchid - Small Crochet Flower **FREE SHIPPING!**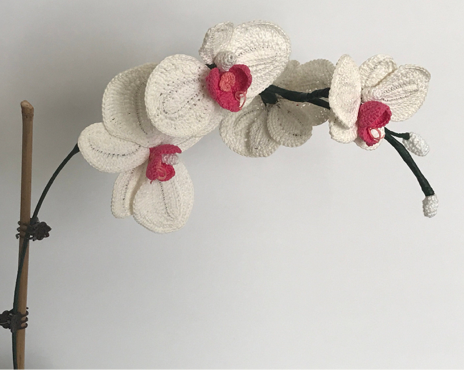 Moth Orchid - Small Crochet Flower **FREE SHIPPING!**
Orchid Moth (Phalenopsis) - SMALL crochet Bouquet = $55 – FREE SHIPPING
Elegant Orchid crochet flower – small
All main petals are assumed to be white; however, leave me a comment/note if you'd like to customize the petals to another color.

Centers (lips) of orchid blossoms are customizable. Leave me a comment/note with 2 desired colors. **If you don't leave a customization note, I will use the colors in the main photo
CUSTOMIZABLE & MADE TO ORDER
COLORS = Customizable
If not indicated main petals will be WHITE and center colors will be 2 shades of PINK
****personalization*****
Please indicate any specific colors.
Include words like "light" blue or "dark" blue or "navy" blue.
Main Petal Color = 1 color
Inside Lip Colors = 2 colors
SIZE = 4 Blossoms

BUDS = 2
STEMS = 1 (approx. 18")
LEAVES = 2
Please allow 1-2 weeks for your order to be completed
*if more time is needed, I will contact you prior to starting your order.
I will send periodic photo updates via email.
FREE Shipping within the contiguous United States via USPS Priority Mail
CARE & CLEANING:
· Dust easily with hair dryer on cool setting
· Spot clean with barely damp cloth dipped in diluted dish soap
· Stems are flexible & bendable – use 2 hands to manipulate to desired position
· Adjust blossoms gently & with clean hands
This product also available for purchase through my etsy shop:
www.etsy.com/shop/CreateInspiredByHim
Contact via email:
CreationsInspiredByHim@gmail.com
Crochet pattern designed by:
CIBYcrochetPatterns
http://bit.ly/CIBYcrochetPatterns
www.etsy/shop/CIBYcrochetPatterns
CIBYPatterns@gmail.com